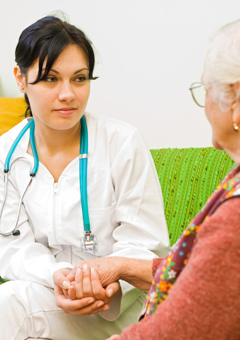 Professional, Compassionate Care!
Whether you require nurse supervision or regular nursing procedures, Retire-At-Home can help with our Nursing Care Services.
Our nurses have excellent emotional intelligence, and will take the time to discuss your concerns and explain any procedures in a patient and respectful way, in the privacy of your home.
Dealing with your medical issues on an ongoing basis requires a special person who will take the time to listen to your concerns and challenges, empathize with you because you may be in pain, and ease any fears or tensions you may have during your treatment experience.
You have our assurance that we employ only qualified, insured nurses.
All of our nurses have current registrations, up-to-date skills and are fully bonded and insured. Our nurses are carefully selected for their compassion and desire to help improve your quality of life. They will communicate with your other health care professionals as required to maintain consistent delivery of health care services.
We promise to work side by side with you during this challenging time, and hope to bring you and your family peace of mind by knowing that a caring, experienced nurse is managing your care.
Our Nursing Care Services include:
Medication administration
Vital signs monitoring
Wound care and dressings
Catheter care
Palliative Care services
Foot Care services also available
Schedule a complimentary, in-home initial assessment and use this
opportunity to express what you would like Retire-At-Home Burlington to plan for you. We look forward to meeting you!
If you choose a Retire-At-Home services package, you will also benefit from the following, at no additional cost:
Experienced Client Care managers, who are nurses;
regular visits to oversee your care and ensure your satisfaction;
ongoing communication with family and professionals as required;
regular review visits to ensure your satisfaction with your care services;
communication with family and professionals as required; and
24-hour on-call support for all questions and issues
Contact us today to find out how Retire-At-Home Burlington can help you with your Nursing Care Services needs.